Thermoforming Manufacturing
We specialize in the supply of large and heavy duty custom thermoformed plastic parts.
Plastic Components, Inc. (PCI), is located in Northern Indiana. We specialize in the supply of large and heavy duty custom thermoformed plastic parts. Our process allows us to supply plastic parts with lower tooling cost and lower minimum quantity runs than other plastic processes.
Custom thermoformed plastic parts are stylized, cost effective and durable. Equipped with over 40 years of thermoforming experience, our team has what it takes to; Design, Engineer and create custom thermoformed plastic product solutions that meet or exceed customer specifications.
Thermoform manufacturing is also referred to as thermoforming or vacuum forming. It is a process whereby various flat sheet stock materials are used to form various parts and products.
Our process is versatile and used by many manufacturers across a wide range of industries to produce components for a variety of applications from; interior components (instrument panels, door panels, partitions and headliners) and exterior components (fenders, bumpers, body parts, lenses and roofs).
We thermoform parts from 6x6 inches up to 6x10 feet.
Overview of the Thermoforming Process
The thermoforming process can be broken up into four main steps:
Heating the material. The flat plastic sheet material until it is pliable and moldable.
Forming the material. The heated flat plastic sheet material is molded into the desired shape using vacuum forming. Once the material is heated to moldable temperature, the material is stretched over a male mold or laid into a female and then a vacuum is used to remove the air between the material and the mold. The removal of the air forces the material to conform to the shape of the mold.
Cooling the formed part. Once the material has been formed in to the desired shape, it is cooled and demolded.
Trimming the formed part. After the part has cooled sufficiently, it transferred to a CNC trimmer to cut part to specification.
The equipment used in each step of the thermoforming process can vary from company to company, depending on part and production demands. At Plastic Components, Inc., we utilize; (6) forming machines, (3) 5-axis CNC trimming machines and final assembly stations.
Utilization of our equipment, combined with in-house tooling capabilities, enables us to produce quality custom thermoformed plastic components. Finished part sizes are from 6 inches x 6 inches up to 6 feet by 10 feet.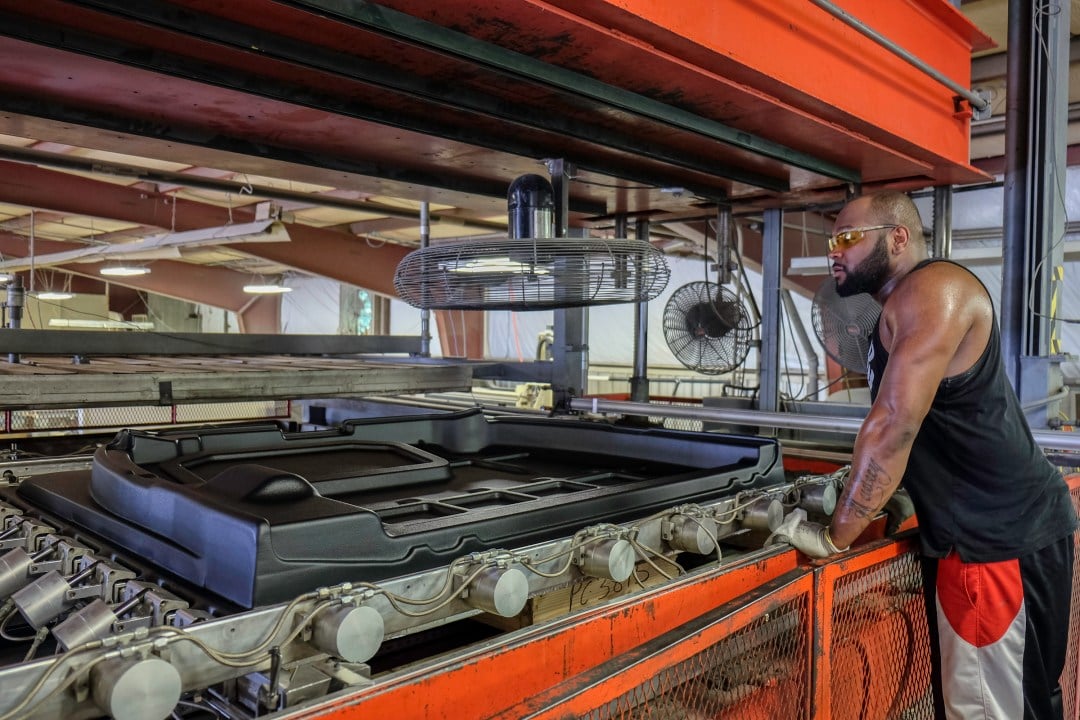 Common Materials Used in Thermoforming Operations
Thermoforming accommodates a wide range of materials, varying in functional and aesthetic characteristics, to suit different part and production specifications. At Plastic Components, Inc., we utilize the following materials in our thermoforming operations:
ABS

Soft-touch foam-backed vinyl

Rubber

Polystyrene

Polyethylene

Polypropylene

Fire-rated PVC

Low-toxic plastics

Low-smoke PVC

High-heat nylon PPO

Polycarbonate

Antistatic/sound-deadening materials

Lightweight acoustical materials

Laminates

Carpet
These materials are available in a variety of colors and textures.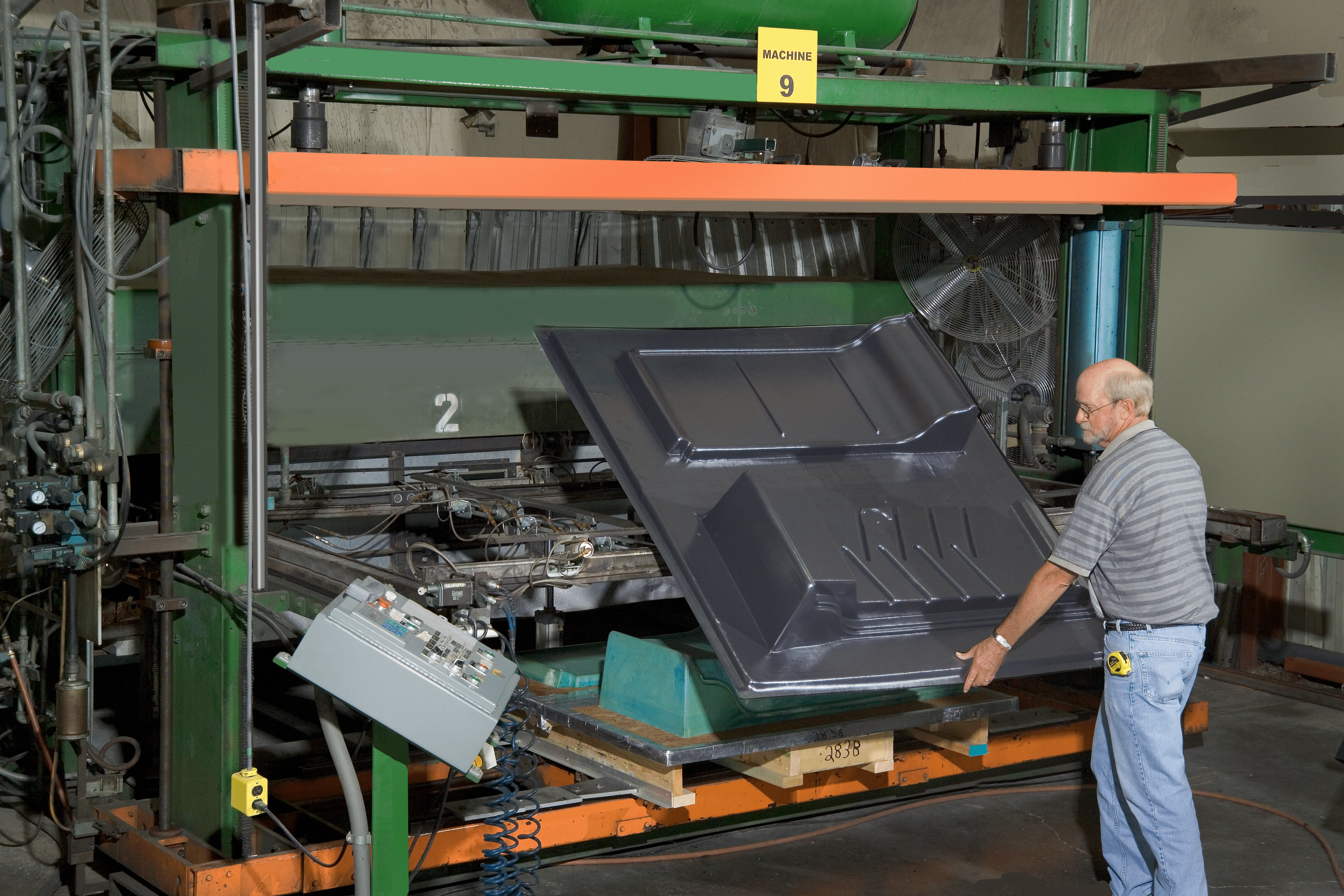 Typical Applications for Thermoformed Parts and Products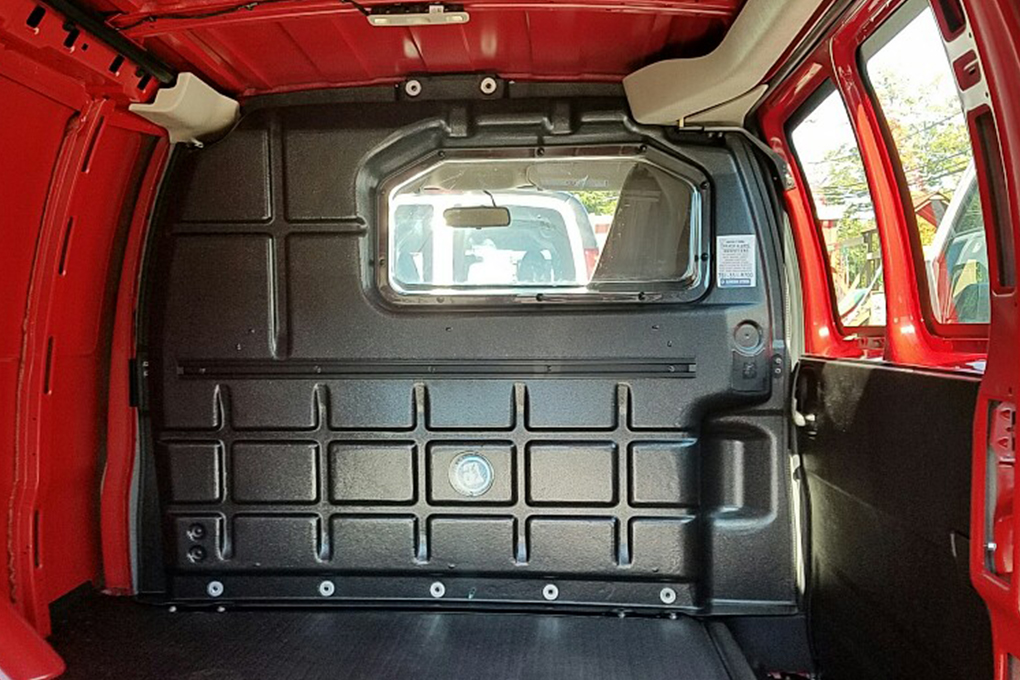 Thermoformed parts and products find application in a variety of applications. For example, we regularly manufacture the following:
Mass transit components, such as bumpers, door panels, ducting, fenders, floor mats, headliners, seating, and other internal, external body parts, bins, ducting, housings, panels, seating, and shrouds
Building/construction equipment components, such as bumpers, covers, and guards
Dunnage and containers, such as bins and trays
General industrial and commercial equipment components, such as housings and instrument panels
Medical equipment components, such as covers, housings, panels, and trays and bins
Industries Served by Thermoformed Parts and Products
Some of the industries that regularly rely on thermoformed parts and products include:
Aftermarket: We can provide a range of plastic vehicle parts and accessories to support the automotive aftermarket industry.
Gaming: We thermoform aesthetically pleasing structures and components for game systems.
General industrial: We produce durable plastic enclosures, covers, and other components to support a range of general industrial applications.
Heating/AC: We thermoform plastic housings, ducting, and other components suitable for a range of heating and cooling system designs.
Heavy/agricultural equipment: We thermoform products that can endure the high vibrations, prolonged use, and rough conditions often experienced by heavy-duty agricultural and other industrial equipment.
Marine: From instrument panels to seating, we can thermoform a variety of products from durable plastic materials that can tolerate constant exposure to sun, moisture, and other aspects of the marine environment.
Medical: Our thermoforming process provides a quick, cost-effective, and precise way to produce medical trays, enclosures, housings, and other components from hygienic materials that are durable and easy to clean.
POP displays: We can mold materials of various colors and textures to create eye-catching point-of-purchase (POP) displays that complement the product and brand.
Transportation: We create lightweight yet durable plastic components for trucks, buses, railcars, and special vehicles.
Partner With the Experts at Plastic Components for Quality Thermoform Manufacturing
Plastic Components, Inc. is a premier provider of quality thermoformed components for customers in a wide range of industries. In addition to our thermoforming capabilities, we also provide product design assistance and tooling design, engineering, and building services to help ensure customers receive product solutions that fully meet their needs. To learn more about our thermoforming capabilities or partner with us on your next project, get in touch with us below.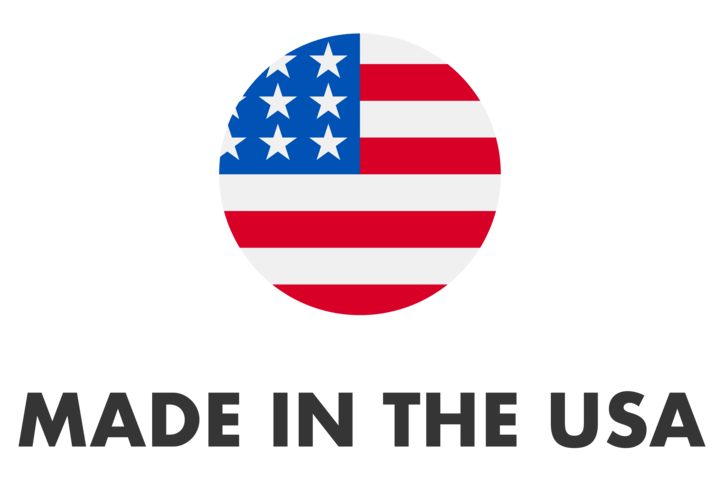 We have the know how to get the job done. Let us help!