Thermoform Tooling
In-house tool design, patterns, and castings.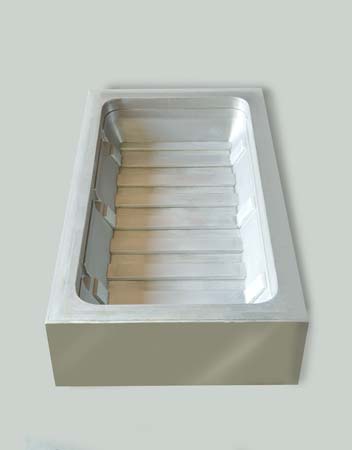 Types of tooling available
The type of thermoform tooling employed in manufacturing will depend on the volume of the run and the material requirements of your part.
Our thermoforming molds are available in the following materials:
Wood. Wood tooling is less expensive, faster to produce, and ideal for short runs of thermoformed parts. We are equipped to create wood tooling in-house to meet the needs of your production and get your part to market faster.

Cast Aluminum. Cast aluminum molds are highly durable and best suited for use in high-volume production operations. Aluminum also allows for greater part detail

Composite Materials. Engineered plastics can be used for thermoform tooling, allowing greater part quantities than wood, but also faster to produce than aluminum tooling

The thermoforming process can be used to

manufacture

a wide range of parts and products for various industries.


Learn more about thermoforming tooling in this article.
In-house tool design, patterns, and castings.
Tools designed to meet your quantity, quality, and budget requirements.
Regardless of part design, material, and production volume requirements, our experts can produce an appropriate mold for the thermoforming project.
In addition to our tooling design, engineering, and building capabilities, we offer product design assistance and thermoforming services to help bring customer ideas to life. To learn more about any of our service offerings or partner with us on your next project, contact us today.


Get exactly what you need fast and affordably!