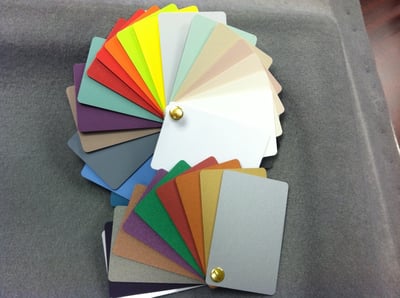 The thermoforming process has some specific capabilities in relation to color and finish. Many other molding, forming, and stamping processes lack the ability to include a custom color in the part shaping process. Often color becomes an additional secondary process adding time, costs, and complexity to part production.
With our thermoforming process, you can take advantage of essentially any color combination to deliver the design and look your customer's customer wants for your next project.
Thermoforming colors into the part improves resistance to UV and environmental exposure leading to long-lasting, bright finishes for your parts.
We work with our resin suppliers to color match exactly to your specifications. All you have to do is give us either the color specification information or an existing painted part and we will color match it.
We will produce a sample that matches your color and confirm with you the color match before making parts. Typically this process takes about 3-4 weeks.