How Thermoforming Large Parts vs. Individually Made Parts Saves Weight, Time, and Money
Molded Plastics vs. Metal, Fiberglass, or Wood
Purchasing agents, engineers, and product development people in the vehicular and equipment manufacturing industries are always looking for improved styling and weight reduction. Continuous improvement will help improve the look and weight of metal, fiberglass, or wood components, but these incremental changes are often not enough to deliver the results OEM's need.
Thermoforming provides an alternative to metal, fiberglass, or wood components in many instances, especially in weight-sensitive battery-powered vehicles, specialty use vehicles, and equipment.
What is thermoforming?
Thermoforming is a plastic molding process using enough heat to make a sheet of plastic pliable enough to be formed over a mold.
The plastic sheet thus takes the shape of the mold. The plastic sheet is then fixture, or CNC trimmed to make the final product.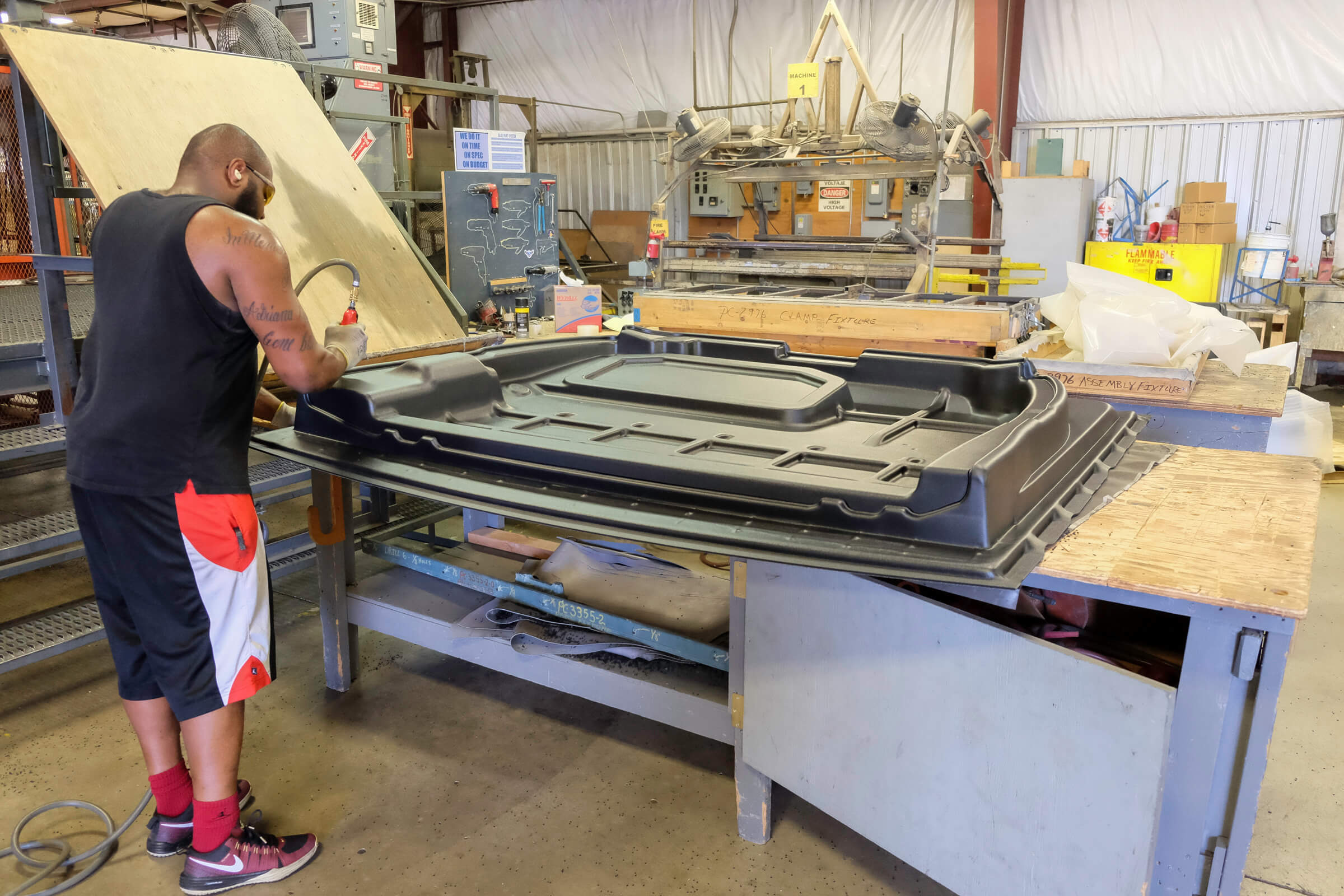 There are various ways to make thermoformed plastic parts using multiple male/female combinations of molds, producing a wide range of options for end uses and possible designs.
The plastic sheets used for thermoforming commonly include ABS, HDPE, HMWPE, Nylon, Polycarbonate, Polystyrene, PVC, TPO, TPR, ABS/Styrene, and laminates with dozens of different patterns. Because of the nature of the thermoforming process, combined with the availability of many material options, custom molded plastics offer numerous solutions, including durability, UV protection, chemical resistance, flammability, and toxicity impact strength.
Large machines enable thermoforming companies to mold large sheets creating large parts with lower tooling costs and lead-times.
Types of parts ideal for thermoforming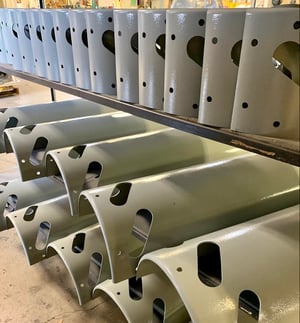 For most trucks and equipment with wheels, mainly including battery-operated vehicles, there are a wide variety of parts that are great candidates for switching from metal to thermoformed plastics, including:
Fenders
Side panels
Splash guards
Bumper cover
Hoods.
Lightweight bezels
Instrument Panels
Clear Plexiglass Windows
Bumpers
Glove boxes
Door panels
Consoles
Headliners
Wiper motor covers
Floor mats
Protective guards
Thermoforming is ideal for large, low-volume production parts that are not integral to the structural integrity of the vehicle or equipment.
Advantages of Thermoforming Plastic Parts vs. Metal, Wood or, Fiberglass
Customers receive many benefits when choosing thermoforming over other methods such as rotational and injection molding to make your plastic products.
Four key advantages are; weight reduction, low tooling costs, fast turnaround time and, prototyping.
Reducing vehicle weight is a critical issue for truck and vehicle manufacturers, especially with ever-increasing mileage requirements. For battery-powered vehicles and equipment, there is a constant need to extend vehicle operation time and range, which requires pushing the weight boundaries ever lower.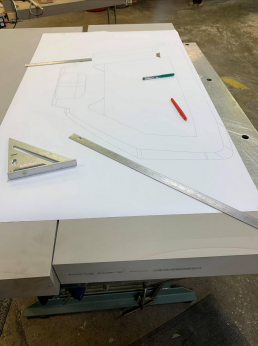 Because of thermoforming's nature, tooling costs are low compared to other plastic molding processes and metal stamping.
In many cases, only one-half of the mold is needed instead of a male/female toolset, which reduces costs, design time, and increases flexibility.
Typical thermoforming tools cost $10,000 - $50,000, compared to $150,000+ for most other molding and stamping methods. If production volumes are 10's, 100's, or 1,000's per month, this tooling differential is a key factor in choosing thermoforming.
A good thermoforming design team can turn around prototypes in weeks compared to months for injection molding and metal stamping technologies. Quick tooling modifications allow companies to get new products to market faster and make ongoing updates without disturbing just-in-time manufacturing requirements.
Other advantages of thermoforming are
Design and mold complex shapes
Mold logos and other graphics at no or little additional cost
High repeatability
Highly styled state of the art designs
Chemical resistance of plastics
High impact strength
Lighter parts cost less and are easier to install
Sub-assemblies & pre-assemblies reduce OEM production time and costs.
Combine multiple parts into one reducing cost, inventory management, and installation time
Molded with colors, finishes, and textures
High strength/weight ratio
Multiple trim options can be incorporated into one part from one mold for use on numerous vehicle models
About Plastic Components, Inc.
We are a thermoform plastics molder specializing in medium and heavy gauge large vacuum formed parts since 1972. We consolidate tooling, engineering, and manufacturing under one roof. We have forming capability up to 6' X 10' with fixture and CNC Trims.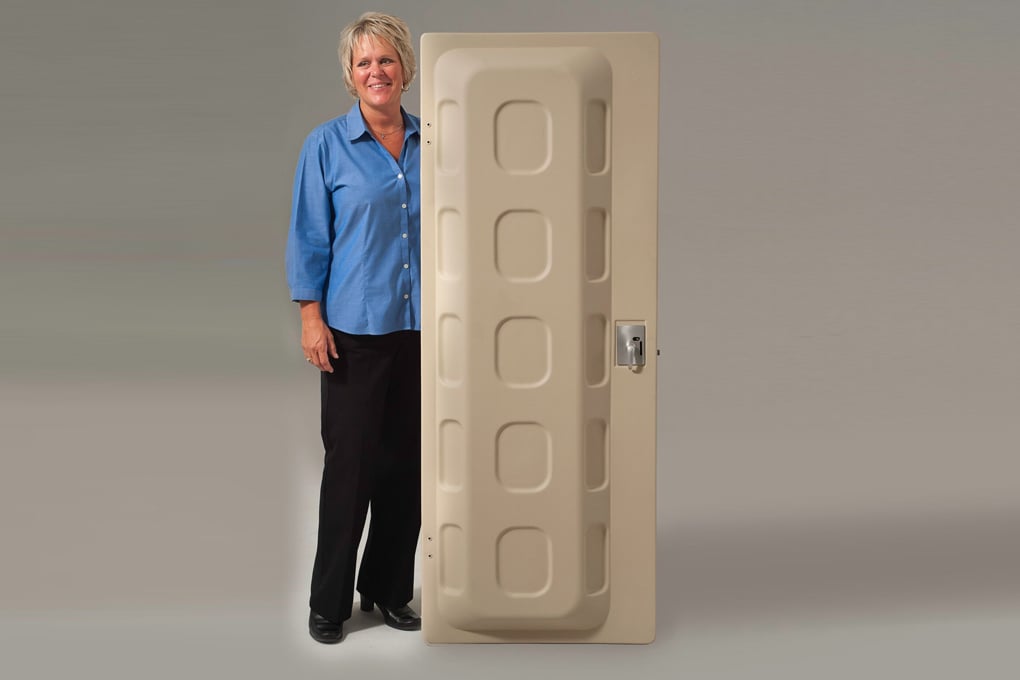 Materials formed include ABS, HDPE, HMWPE, Polycarbonate, Polystyrene, PVC, TPO, TPR, Nylon, including compounds with unique physical properties such as MVSS 302, Low Smoke/Low Tox and, Low Flame. Short lead time tooling options available.
We specialize in supplying large and heavy-duty custom thermoformed plastic parts with lower tooling costs and minimum quantity runs than other plastic processes. Thermoformed plastic parts are lighter weight and highly styled as opposed to fiberglass and metal. Thermoformed plastic parts are cost-effective and durable.
We can mold parts up to 6 feet long by 10 feet wide.
Many assembly services are available, including epoxy bonding, sonic welding, riveting, steel & nylon fasteners, hinge incorporation, and screen installation.
We will deliver your thermoformed parts on time, to specification, and on your budget!