A large heavy equipment manufacturer had a problem. One of their equipment product lines had large metal belt guards that covered the drive belt.
The drive belt needed a daily inspection and the metal belt guard weighed too much for one person to lift and remove.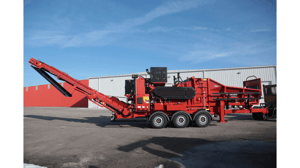 In fact, it was so heavy that the crew needed to use a forklift to remove the cover to perform the required service.
To add to the challenge, the OEM wanted to debut the product with improved design at a trade show in less than 3 months.
Thermoforming plastic parts was the answer with PCI's in-house tooling and engineering support.
Converting an existing part made from metal to plastic for an OEM piece of equipment is not an easy process. There are specifications, testing, durability, aesthetics, not to mention the issue of accessibility, that all need to be replicated and verified.
The steel belt guard required a replacement solution that was as rugged, impact-resistant, and as good-looking as the original. To add to the challenge, this part needed to include the logo and branding for the OEM.
The solution was an impact-resistant ABS material that met the performance requirements and reduced the part weight significantly.
Thermoformed Design Outcomes include:
Weight reduction from approximately 718 to 38 pounds
Reduced time to service the belts
One person could now remove the cover to service the belts
Simplified the process of servicing the belts
Cut in half the time needed to service the equipment
First Article Prototypes were hand-delivered 3 weeks before the tradeshow
Partner With PCI for Your Custom Thermoformed Plastic Parts Needs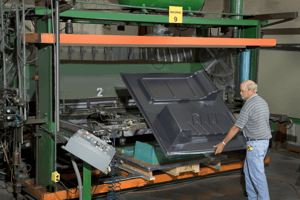 Thermoforming is a flexible and adaptable process used to create a wide range of components for many industries and applications.
At Plastic Components, Inc. (PCI), we specialize in the design and manufacture of large and heavy-duty thermoformed plastic components. We do not manufacture thin-gauge, small, or low-cost disposable plastic parts.
With over four decades of large component thermoforming experience, our team has the knowledge and skills to make custom thermoformed parts and products that meet your specifications and standards.
In addition to our thermoforming capabilities, we also offer design assistance, tooling design, engineering, and assembly services to ensure we can provide the right solutions to our customers.
By partnering with us, compared to a stamped metal part you will see:
Faster tooling lead times
Lower tooling costs
Easier component installation and assembly
Greater project efficiency and cost-effectiveness
Better satisfaction with the final product solution
To learn more about our thermoforming capabilities or work with us on your next project, contact us today.