Thermoforming is a manufacturing technique where a sheet of extruded plastic is heated until it's pliable and moldable. Once the desired temperature is reached, the material is stretched over a male mold or laid into a female mold.
Vacuum is used to remove the air between the material and the mold. Removal of the air forces the material to conform to the shape of the mold to the desired shape.
Unlike other forming processes, such as steel stamping, we can create thermoformed prototypes quickly and affordably.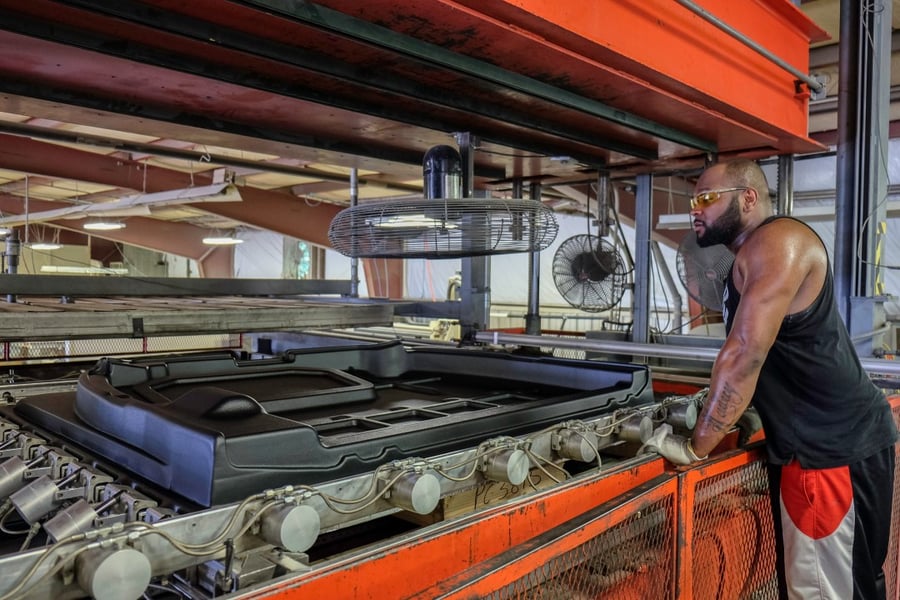 When making the transition from steel or fiberglass into plastics, it's beneficial to build a prototype that is a representative sample of what your thermoformed plastic part would look and feel like. We can provide prototype parts in hand quickly and cost-effectively. Prototypes allow you to have a full-scale part in hand to aid in reviewing a custom-molded plastic part's overall fit, form, and function.
Sometimes, we can create sample parts using existing metal or fiberglass tools to quickly form prototypes or even small production runs. Machine wood or composite materials are other affordable options for a fast turn-around of prototypes. Prototypes could be supplied in various materials for testing and product review.
Provide us with a solid model, and we can 3D print a scaled version of your part design for preliminary product and cost review discussions.
Pre-Production Prototypes
Once thermoforming has been identified as the potential choice for a manufactured part, a part analysis is completed for fit, form, and function. We analyze your concepts, existing parts, and or CAD data to prepare a part design for approval. Solidworks is utilized to complete part and tool design.
We accept Native Solidworks files or the following extensions: Parasolid XT, STEP, or IGES.
With in-house control of both part and tooling design, prototyping, and manufacturing, we can keep costs down and speed up the overall process.
Once the part design review is completed and approved, we review and finalize the tooling design. Now we can move to prototype part sampling.
Pre-production representative parts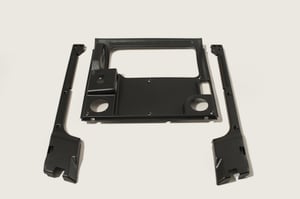 The first run prototype process aims to create pre-production representative parts. The first step is to make the prototype molds/tooling.
We create prototype tooling using wood, ceramic or machinable tooling boards. This simple but effective and accurate initial tooling allows us to test designs and materials without spending tens of thousands of dollars on prototype tooling.
Wood tooling allows us to make approximately a dozen test parts—more than enough to do initial feasibility tests.
Machinable tooling boards are more robust, and we can make a few thousand parts using these tools.
These pre-production prototypes are used to run fit, form, and function tests.
In many cases, this technique allows our customers to cost-effectively evaluate thermoformed parts as they determine if a project will transition into full, long-term production.
Our approach to thermoformed tooling gives our customers a huge advantage in testing and evaluating designs and materials without a substantial overhead investment.
Our quick turnaround on prototype tooling and parts, depending on the level of sophistication and number of elements, typically happens in 15-20 working days.
Contact us and speak to our engineers to see how we can help you build the best thermoformed prototypes and parts for your application.
About Plastic Components, Inc.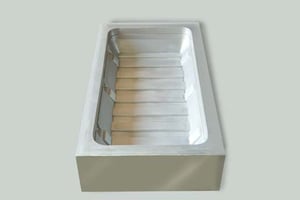 We are a thermoform plastics molder specializing in medium and heavy gauge large vacuum-formed parts since 1972. We consolidate tooling, engineering, and manufacturing under one roof. We have forming capability up to 6' X 10' with fixture and CNC Trims.
Materials formed include ABS, HDPE, HMWPE, Polycarbonate, Polystyrene, PVC, TPO, TPR, Nylon, including compounds with unique physical properties such as MVSS 302, Low Smoke/Low Tox and, Low Flame. Short lead time tooling options are available.
We specialize in supplying large and heavy-duty custom thermoformed plastic parts with lower tooling costs and minimum quantity runs than other plastic processes. Thermoformed plastic parts are lighter weight and highly styled as opposed to fiberglass and metal. Thermoformed plastic parts are cost-effective and durable.
We can mold large parts up to 6 feet long by 10 feet wide.
Many assembly services are available, including epoxy bonding, sonic welding, riveting, steel & nylon fasteners, hinge incorporation, and screen installation.
We will deliver your thermoformed parts on time, to specification, and on your budget!